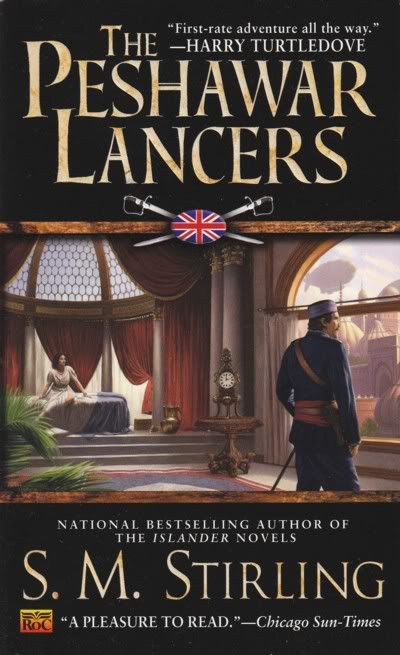 I must say that Steve Stirling is one of my favourite current sf authors, and a pretty versatile writer. His
Wikipedia
page starts off by saying that he "is probably best-known for his Draka series of alternate history novels and the more recent time travel/alternate history Nantucket series and Emberverse series", but he has kept busy over the years, as a look at all the covers on
Fantastic Fiction
shows.
There was a time when he did a lot of co-authoring, so that over the years he has collaborated with Jerry Pournelle on a couple of "Falkenberg's Legion" novels, written a pair of novels in Anne McCaffrey's "Ship Who Sang" series, written three "Flight Engineer" novels, co-credited to
Star Trek's
James Doohan, co-authored the "The General" series with David Drake, and made appearances in the "Warworld", "Man-Kzin Wars", and "Honor Harrington" universe anthologies as well.
The
Draka
books are an "alternate history" idea, a type of sf he does rather well. After the US Civil War, the slave-owning plantation owners of America's southern states don't take things lying down, instead they sail off to Southern Africa, where the slaves came from, and take over - which means in modern times that there's a slave-owning super-power to deal with.
In the "Nantucket" series, an "Event" sends the island and its inhabitants back about 3000 years, and the islanders have to try to survive in this new, old world, and to make alliances and perhaps improve how things are. Cunningly, the sending-back through time of Nantucket is part of a big change for the rest of the modern world, as detailed in the "Emberverse" series. Suddenly electricity, explosives, internal combustion, and steam power no longer work, which makes for a bit of a crisis, as you can imagine.
There's also the "Fifth Millenium" series, set post-apocalypse in about 5000 AD with some psionics-type magic and medieval technology, and individual novels too.
The Peshawar Lancers
is one of my favourites, which, like Ian McDonald's
River of Gods
, owes more than a little to Rudyard Kipling, though it is a very different, more traditional novel. After a terrible meteor shower devastated most of the world, most of the surviving Brits, thanks to the efforts of Saint Disraeli, have been relocated to India, and the British Raj lives on - though the country, as countries do, is well on its way to assimilating the newcomers. I found a useful review of the novel online, but as it seems to have been deleted from its website, hereandok.com, remaining only as a Google cache, I'll reprint it below.
Two books of "The Lords of Creation" are available now, and I'm looking forward to reading them:
The Sky People
and
In the Courts of the Crimson Kings
. In times past, mysterious aliens terraformed and seeded Mars and Venus with life, so that they are currently like something Edgar Rice Burroughs imagined. Imagine our surprise when we send our first expeditions there...
Anyway, the author's own website is at
www.smstirling.com
, as you might expect, and includes some useful samples of his work, I see. " I'm a writer by trade, born in France but Canadian by origin and American by naturalization, living in New Mexico at present. My hobbies are mostly related to the craft-I love history, anthropology and archaeology, and am interested in the sciences. The martial arts are my main physical hobby", he tells us. It looks a useful site, without the "I'm great, me" emphasis of, ahem,
some
sites I've looked at in recent days. He even links to some fan fiction set in his universes.
So, if you've not tried S.M. Stirling's work thus far, do check him out!

---oooOOOooo---
review: The Peshawar Lancers by S.M. Stirling
In an alternate history version of our world, the British Empire, centered on India, still survives in the early 2000's. In the late 1800's while Benjamin Disraeli was Prime Minister of England, comets struck Earth, killing many millions and setting civilization back. Disraeli had much to do with moving much of English society out of uninhabitable England. He is now known as Saint Disraeli. The result is a significantly different world. Society is class-centered. At least in the British Empire, known as the Raj, the upper classes take their responsibility to the lower classes seriously. Oddly, the class based arrangement reminds one of the society in Stirling's Draka series.
Stirling has written a richly detailed book. Has wonderful details about troops on campaign, the projected technology of the time / universe, clothes, languages & accents, food, and the traditions of British India. Stirling has a subtle sense of humor. He mentions that armored cars and balloons use the Stirling-cycle engine. Egomaniac! See About the Stirling Heat Engine and How Stirling Engines Work.
The book does a nice job of gradually revealing the alternate universe's history.
Athelstane King is a young British cavalry officer (in the 21st Century, by the way) and minor noble. He gets caught up in some serious events. His twin sister Cassandra is an astronomer. Yasmini is a seer, a True Dreamer, a talented member of a Sisterhood that can accurately see various futures and advise on the consequences of people's actions. Besides helping with tactical decisions, she also foresees a huge end-of-the-world disaster. Her prescience might remind a reader of Paul Atriedes in Dune. The somewhat feudal society of The Peshawar Lancers might, too.
Rival empires compete. The Russian Empire, centered in central Asia, is frighteningly evil. Spies try to kill Athelstane. The whole world is in danger. Action is continuous. The story line holds the reader's attention.
A quibble -- Stirling says that the Chinese, ruled by the Japanese Empire in his timeline, still resent the British because the British mistreated them when they colonized part of China. In the real world, the Chinese have long since forgiven the British. In Stirling's world, they would have done likewise, especially under the heel of Japanese rule.
The author does a wonderful job of showing us India, albeit a different India, with its myriad of peoples, cultures, and traditions. Kind of like the way China has subsumed its conquerors (for example, the Mongols) over the centuries, the British rulers of India have adapted its customs. They eat Indian food, wear Indian clothes (turbans, saris) and speak a version of English full of loan words from Hindi and other Indian languages. We get a feel for warriors / soldiers from India, too. This aspect is similar to what David Drake and Eric Flint give us in In the Heart of Darkness. If you like The Peshawar Lancers, you should try In the Heart of Darkness and the rest of the Belisarius series.
This is a book that you cannot bear to put down and yet want to stretch out as long as possible, hoping it will never end. When it does end, the reader is satisfied. The conclusion completes the story, though the timeline itself has room for several followups. It is a marvelous read.