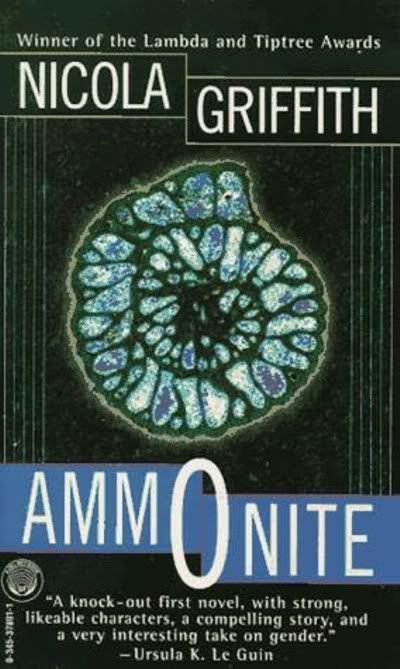 As part of our
2009 Author August
extravaganza, today is our day to begin the SFMB thread for Nicola Griffith, the British-born author of not just the above-pictured-novel, but
Slow River
too, and, as
Wikipedia
tells us, three rather good crime novels.
Ammonite
(1993) won both the James Tiptree, Jr. Award and the Lambda Award and was nominated for the Arthur C. Clarke Award, while
Slow River
(1995) won another Lambda, and the Nebula award for best novel. So, a good start, eh?
Unusually, a "do-it-yourself Nicola Griffith home assembly kit" is available, which seems a nice idea - or so her memoir
And Now We Are Going to Have a Party: Liner Notes to a Writer's Early Life
(2007) has been described. It won the Lambda Literary Award in the Women's Memoir/Biography category. Nicola Griffith has edited a series of three anthologies with Stephen Pagel exploring gay and lesbian issues in science fiction & fantasy settings:
Bending the Landscape: Fantasy
(1997),
Bending the Landscape: Science Fiction
(1998) and
Bending the Landscape: Horror
(2001).
There is also a collection of short stories,
With Her Body
(2004, containing "Touching Fire", "Songs of Bullfrogs", "Cry of Geese", and "Yaguara"). The
Fantastic Fiction
page mentions that "Yaguara" was a nominee for the Nebula for best novella in 1996.
Nicola Griffith's home page is at
www.nicolagriffith.com
, and once you get past a front page of various squares and rectangles in vivid colours, is a fine place to explore. Let's borrow some biography:
Nicola Griffith is a native of Yorkshire, England, where she earned her beer money teaching women's self-defense, fronting a band, and arm-wrestling in bars, before discovering writing and moving to the US. Her immigration case was a fight and ended up making new law: the State Department declared it to be "in the National Interest" for her to live and work in this country. This didn't thrill the more conservative powerbrokers, and she ended up on the front page of the Wall Street Journal, where her case was used as an example of the country's declining moral standards.

In 1993 a diagnosis of multiple sclerosis slowed her down a bit, and she concentrated on writing. Her novels are Ammonite (1993), Slow River (1995), The Blue Place (1998), Stay (2002), and Always (2007). She is the co-editor of the "Bending the Landscape" series of original short fiction published by Overlook. Her short fiction and essays have appeared in an assortment of academic texts and a variety of print and web journals, including Out, Nature, and The Huffington Post. Her awards include the Tiptree, Nebula, and World Fantasy Awards, the Premio Italia, and the Lambda Literary Award (six times). Her latest book is a multi-media memoir, And Now We Are Going to Have a Party: Liner Notes to a Writer's Early Life. She lives with her partner of 20+ years, writer Kelley Eskridge, in Seattle where she blogs daily, teaches occasionally, and takes enormous delight in everything.
The website has a number of audio excerpts, mainly from the "crime novels" starring the six-foot-tall crop-haired Aud Torvingen, some early fiction to download, and even some videos, as well as quite a lot of articles. But let's end this first post, of many I hope, with a brief review quoted there of
Ammonite
:
Ammonite is a self-assured, unselfconscious, convincing depiction of a world without men...doing what only SF can do, and doing it with skill and brio.... It answers the question 'When you eliminate one gender, what's left?' ('A whole world,' is the answer.) But a lot of books, like Moby Dick, eliminate one gender, and yet nobody thinks anything about it. I believe Kate Clinton has the answer: 'When women go off together it's called separatism; when men go off together it's called Congress.'

--Ursula K. Le Guin