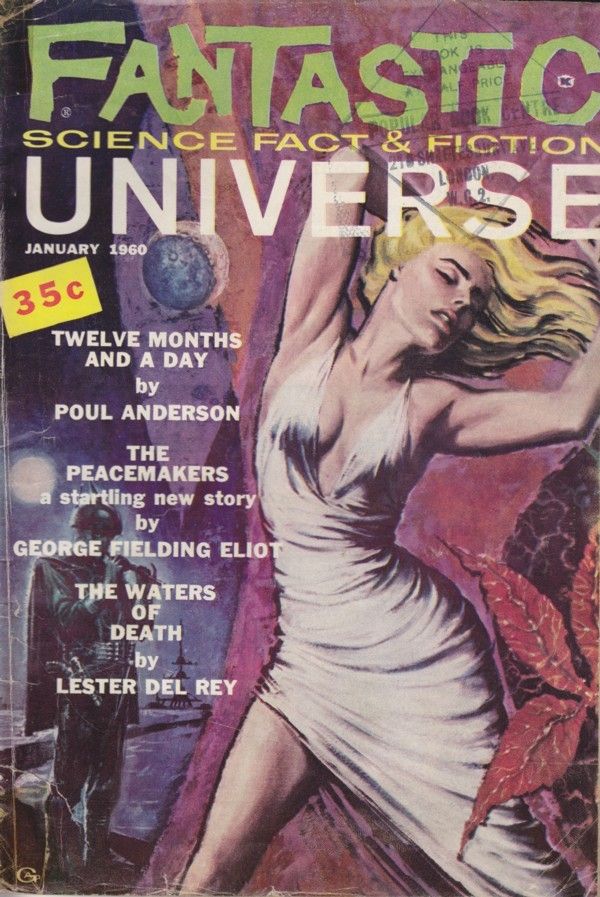 Fantastic Universe
began in June-July 1953, and for the rest of the decade was one of the major sf magazines, ranking generally not far behind
Astounding, Galaxy,
and
The Magazine of Fantasy & Science Fiction
. It was, naturally, in the digest format - until October 1959, when it moved up a gear to what one might call the "trimmed pulp" format, about 6.3" by 9.3" - possibly in a bid to be more visible on the shelves. The price, 35 cents, and the page count, 128 plus covers, remained the same.
The first story this time was "The Quest" by Kit Reed, followed by "The Peacemakers" by George Fielding Eliot, and Lester del Rey's article "The Waters of Death." Then came the 39-page main story of the issue, "A Twelvemonth and a Day" by Poul Anderson, followed by "Pickup" by Aidan van Alm. "The Detroit Convention" was a nine-page special feature by Forrest J. Ackerman and Ted White, among others; after that came "Fannotations" by Belle C. Dietz, in similar vein, and "Faircon in 1964?" by editor Hans Stefan Santesson, so this was a pretty fandom-oriented issue. "Have Time, Will Travel!" was an article by Lin Carter; "The Current Catalogue" was a short story by Jess Shelton, and then, after "An Editorial Aside" on the kind of fact articles recently run, the issue finished with "Irresistible Force" by Chan Elliot.
It's slightly strange that a magazine so in touch with the fandom side didn't have a letters column, or any little introductory bits by the editor at the start of the stories; there are some fine Virgil Finlay illustrations, however, to go with the Ed "Emsh" Emshwiller cover. I don't know what went wrong, maybe it was just a time when the sf magazine field did just need to thin out, but there were only two more issues of
Fantastic Universe
after this. The end was sudden - the final issue began a new serial, "The Mind Thing" by Fredric Brown, which remained unfinished...until Bantam brought the novel out in paperback the following January.