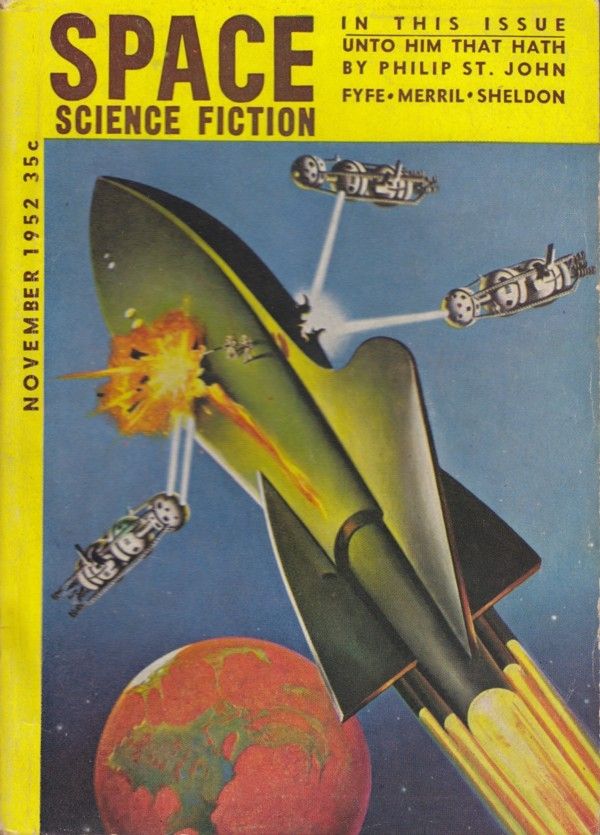 As a digest size magazine,
Space Science Fiction
ran for just eight issues in 1952 and 1953, edited by Lester del Rey; it's not to be confused with
Space Stories
, which ran for five issues over the same period, as an adventure-oriented pulp companion to
Startling Stories
and
Thrilling Wonder Stories
- while
Space Science Fiction Magazine
ran for two issues in 1957.
This, anyway, is the third issue of this particular brand of
Space
; the cover is by Earle Bergey, while the interior illustrations were handled by Paul Orban, Ed "Emsh" Emshwiller, Raymond, Ebel, and Gari. The 41-page lead story was "Moonwalk" by H. B. Fyfe, while the two novelettes were "Be Fruitful and Multiply" by Michael Shaara and "Unto Him That Hath" by Philip St. John (a pen-name of the editor): "The best way to win a technological war is to have the best technology - even if that means going to the future for it. But sometimes it pays to look even gift horses over carefully - some are Trojan!"
"A Lack of Verisimilitude" by Walt Sheldon, "Walk to the World" by A. J. Budrys (or Algis Budrys if you prefer), and "Hero's Way" by Judith Merril were the short stories; having 160 pages meant there was room for some non-fiction too, though the magazine's British edition tended to cut all that out, to fit the fiction into 128 pages. "Saucers in the Belfry" by Larry Shaw and "The Big Convention" by Lester del Rey (A Report on the Tenth Anniversary World Science Fiction Convention in Chicago) were the articles, while del Rey also contributed a two-page editorial on Space Suits. "Straight, Place and Show" reported on readers' vote on the first issue - the editor's own story came top, beating Kuttner and Asimov into second and third places.
The letters section, "Take-Off," included letters from Damon Knight and Larry Shaw, who became an sf magazine editor himself three years later. The final page of this issue led with the news that the magazine was going monthly, but this didn't actually happen, except for February and March 1953 issues - and that was after a gap of two months. And that February (not December) issue didn't have the promised Damon Knight story, "The Worshippers" - which arrived finally in March. George O. Smith was in charge of the book reviews, covering ten titles in four pages, starting with the new line of juvenile sf from the John C. Winston Company of Philadelphia. A smart move, as the "Winston juveniles" soon became pretty influential and successful.
So, a talented and popular editor, and some pretty good writers... some magazines survived and prospered, while others, despite strong starts and high hopes, didn't stay around for very long. There was a "volume two number three" British edition after the cut-down version of the final US one. UK readers must have been puzzled that it didn't have the second half of Poul Anderson's serial - instead it reprinted the stories and cover of the first US issue, which hadn't been reprinted before, it seems.